The 10 Greatest Shooters in Movie History

The 10 Greatest Gun Shooters in Movie History
American cinema has a long history of featuring some of the fiercest gunslingers the screen has ever seen. With so many iconic shooters to choose from, it's hard to narrow it down to just a few. We took into account shooting speed, accuracy, and style to put together a list of the greatest gun shooters in movie history. Check it out:
Neo and Trinity (The Matrix Trilogy)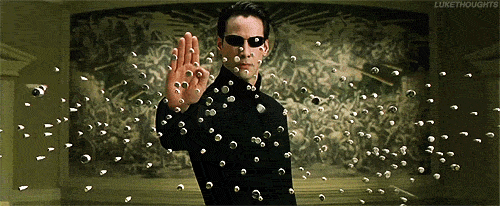 We all remember that iconic 360-degree scene in The Matrix when Neo is dodging bullets with mind-blowing speed (a visual effect that is now known as "bullet time"), but do you recall the amazing lobby shootout scene? Neo and Trinity march into a corporate building armed with Micro Uzis, MPDKs, Skorpions, and Franchi SPAS-12 shotguns and empty magazine after magazine to eventually make it to the elevator, with the lobby looking a little worse for wear. For this scene alone, we're giving Neo and Trinity the tie.
If you're in need of a little couples therapy, you can have your own Neo and Trinity experience right here at The Range 702 with our exclusive package.
Private Jackson (Saving Private Ryan)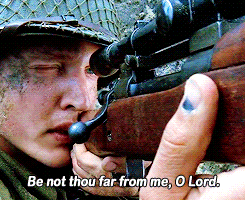 Accuracy is something every shooter strives to improve. However, some of us are simply more gifted with a sniper rifle than others. Private Jackson, the intensely accurate sniper from Saving Private Ryan, is one of those individuals. He's able to skillfully pick off enemy after enemy from insane distances using his trusty scope and dedicated marksman 1903 A4 Model Springfield rifle.
Think it's easy? Scope it out for yourself with one of our sniper rifles from our vault.
Lara Croft (Tomb Raider)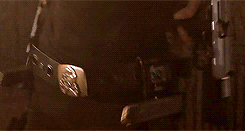 As an adaptation of the popular videogame series, it makes sense that this film would feature some epic shooting. It definitely does not disappoint with Lara Croft showing off her speed and precision skills throughout the movie. Her signature pistols are Heckler & Koch USP Match with stainless slides and custom mag holders, which she keeps conveniently strapped to her thighs for easy access.
If you want to get your adrenaline pumping with your besties but are a little intimidated, we offer our exclusive Femme Fatale package that is specifically for ladies who are new to shooting. Don't worry; we'll have you feeling like Lara Croft in no time.
El Mariachi (Desperado)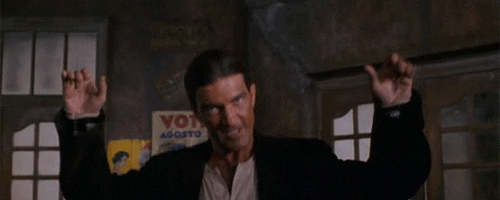 Remember that movie with the guitar case full of guns? Yeah, that's this one. El Mariachi is out for vengeance after being shot by a violent gang that didn't know who they were messing with. El Mariachi is best known for hiding his two Ruger KP90s up either of his sleeves and firing with a unique crossed arm technique. Although that is really not the most realistic form (and one you should never try yourself), it definitely looks fantastic on screen.
This film is also part of a series, so it's worth watching the entire Mariachi trilogy for all the heart-pounding action you can handle.
John Wick (John Wick)
Speaking of vengeance, we couldn't possibly skip John Wick when it comes to this list. John is holding a bit of a grudge and nothing will stop him from getting revenge, even if it's the Russian mafia. John Wick uses multiple weapons throughout the film, including a Glock 26 compact pistol, a Heckler & Koch P30L fitted with a custom compensator, and a Walther P99, just to name a few. One thing's for sure, you do not want to get on John Wick's bad side.
The impressive shooting in this film was so epic that, of course, they had to make a sequel. Believe it or not, the second one is just as good when it comes to firearms and proficiency.
John Rambo (First Blood)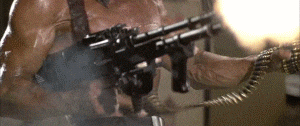 Apart from the entire First Blood series becoming a cult classic, the character of John Rambo is one heck of a shot. In the first of the First Blood movies, we're introduced to Rambo, a former Green Beret Vietnam veteran who is pushed over the edge. He eventually releases his frustration in furious style with an M60 machine gun and extra rounds strapped to his chest. His training and accuracy make Rambo an unstoppable force.
For your own machine gun experience, check out our machine gun vault to get your Rambo on. Or if you're feeling extra pumped, drop in for our one-of-a-kind Quadzilla Experience which is basically four M4 receivers mounted together that fires 1,400 rounds per minute!
The Sundance Kid (Butch Cassidy and the Sundance Kid)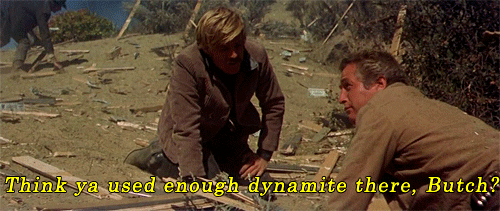 In this classic Western, the main characters are anything but heroes. But like many of these films, we end up rooting for the bandits. The Sundance Kid works alongside Butch Cassidy to rob banks in Bolivia and chaos ensues as the Bolivian police set their targets on the quick-shooting partners.
The Sundance Kid is known as the "fastest gun in the West" with his Colt Single Action Army (SAA), and for good reason. Just catch any scene from this film to see why.
Harry Callahan (Dirty Harry)
This list would not be complete without at least one Clint Eastwood character. It just so happens that Dirty Harry is arguably the most iconic shooter in cinematic history. His famous revolver is a Smith & Wesson Model 29, chambered in .44 Magnum, also referred to as a "hand cannon" and one of the most powerful handguns you'll ever fire.
You know the shooting is on point in this film, but it's also worth watching just to hear all the awesome Clint Eastwood quotes.
Django (Django Unchained)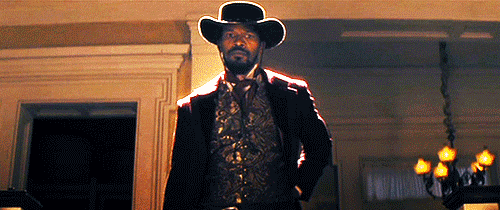 Django Unchained delivers yet another story of revenge that pays off in such a satisfying way in the end. Django is a former slave, now a bounty hunter, trained to be fast and deadly with any firearm. He's on a mission to take out the Brittle brothers, the South's most-wanted outlaws, as well as find his wife. Armed with a Cobra "Big Bore" Derringer, a Remington 1858 New Army revolver, and a Sharps 1874 Buffalo rifle, he is able to do just that. Now that's how you get even.
The Terminator (Judgment Day)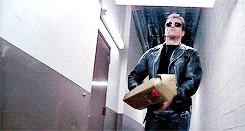 To round out this list, we're tipping our hats to the Terminator (T-800 Model 101) who basically defined what a real action movie looks like. In the second installment of The Terminator film series, T-800 shows off some serious shooting skills using any weapon that happens to be in his hand. To name a few, there's the sawed-off Winchester 1887, High Standard Model K-1200 Riot Standard shotgun, the Remington 870 shotgun, M79 & MM1 grenade launchers, and the Colt Series 70/Detonics 1911 Hybrid with which he delivers the famous line, "Hasta la vista, baby."
To get in on a piece of this action, check out our special Judgment Day Experience package for your chance to shoot two handguns and two fully automatic machine guns from our vault.
Of course, there are countless movie characters that also deserve to be on this list, and it's impossible to name them all. For what it's worth, these are just some of our favorites. Do you have any favorites we didn't mention? Also, check out the classes offered at The Range 702 if you need some instruction on how to really get the most out of your shooting experience.