Nevada CCW Reciprocity Guide
Nevada is not a 'Constitutional Carry' state – it is illegal to carry a concealed firearm in Nevada without a valid CCW permit.
Nevada has agreements with some states to recognize each other's CCW permits. Individuals with CCW permits from states recognized by Nevada do not need to obtain a Nevada CCW permit to carry a concealed firearm in permitted locations in Nevada.
Understanding CCW laws in Nevada, which states' CCW permits Nevada recognizes, and which states recognize Nevada CCW permits ensures visitors to Nevada know if their out-of-state CCW permit is valid and ensures Nevadans know whether their CCW permit is recognized by states they visit when traveling.
What state CCW permits does Nevada recognize?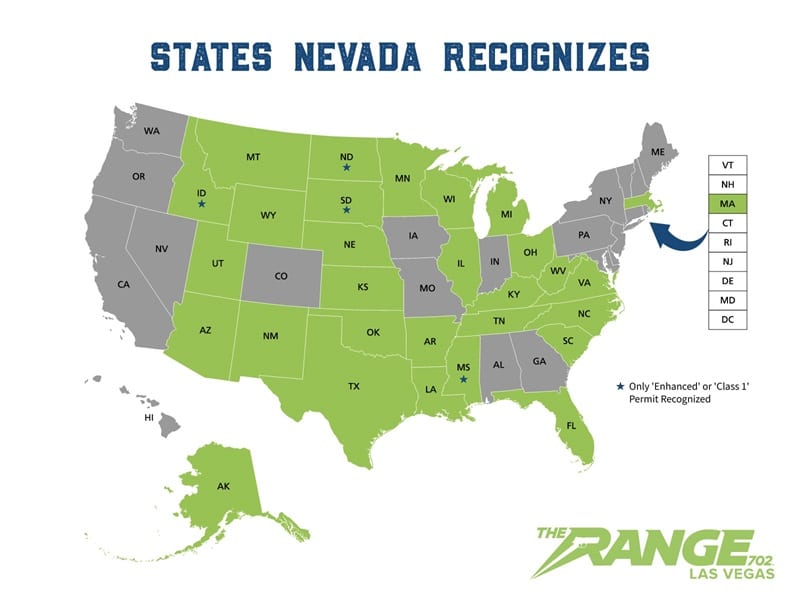 Nevada recognizes CCW permits from 29 states as of November 2023. The following state's standard CCW permits are accepted without restrictions: 
Alaska
Arizona
Arkansas
Florida
Illinois
Kansas
Kentucky
Louisiana
Massachusetts
Michigan
Minnesota
Montana
Nebraska
New Mexico
North Carolina
Ohio
Oklahoma
South Carolina
Tennessee
Texas
Utah
Virginia
West Virginia
Wisconsin
Wyoming
Nevada recognizes the specific CCW permits noted from the following states:
Idaho enhanced permit
Mississippi enhanced permit
North Dakota Class 1 permit
South Dakota enhanced permit
Other CCW permits from those states are not valid in Nevada.
CCW permits from all 29 states serve as non-resident permits for visitors to Nevada. These permits are invalid if the permit holder becomes a Nevada resident and fails to secure a permit from their county sheriff within 60 days of becoming a Nevada resident.
The following states do not have CCW permit reciprocity with Nevada:
Alabama
California
Colorado
Connecticut
Delaware
Georgia
Hawaii
Indiana
Iowa
Maine
Maryland
Missouri
New Hampshire
New Jersey
New York
Oregon
Pennsylvania
Rhode Island
Vermont
Washington
What are the CCW laws and rules in Nevada?
Open carry
In Nevada, open carry refers to carrying a weapon in a manner that's readily visible to anyone. Provided it's clear you're carrying a gun, the open carry laws apply. Concealing any part of a firearm requires the holder to have a concealed carry permit. However, carrying a gun in an exposed holster qualifies as open carry as long as it's clear it contains a gun. It is legal to carry a firearm in this manner in the state without a permit.
Concealed carry
Nevada defines concealed carry as carrying a weapon in a manner that makes it not readily visible to others. Examples of concealed carry include tucking a weapon into the back of your pants and covering it with a jacket or sweater or using a holster concealed by an article of clothing. "Mexican carry" or "Virginia tuck" is considered concealed in Nevada. The general rule is, if any part of the firearm (or holster the firearm is in) is covered by clothing, it is considered concealed and requires a valid permit to lawfully carry.
Duty to inform
There is no legal duty to proactively inform a law enforcement officer that you are concealing a firearm in Nevada. However, you must have both your Concealed Firearm Permit and valid state-issued ID on your person when you are carrying concealed, and you must present these documents upon request by a law enforcement officer.
Places where open and concealed carry is illegal
Nevada has some places where CCW restrictions apply. Firearms – whether carried openly or concealed – are prohibited in the following locations:
Airports (unless unloaded, cased and locked for transport)
Public schools
Charter schools
Child care centers
Nevada public colleges
Nevada public universities
Federal public property with posted 'no firearms' signs or metal detectors at entrances
State public property where 'no firearms' signs are posted or public buildings with metal detectors at entrances
Although concealed carry is legal in bars & establishments that serve alcohol, it is not legal for an individual who's intoxicated.
What states recognize a Nevada CCW permit?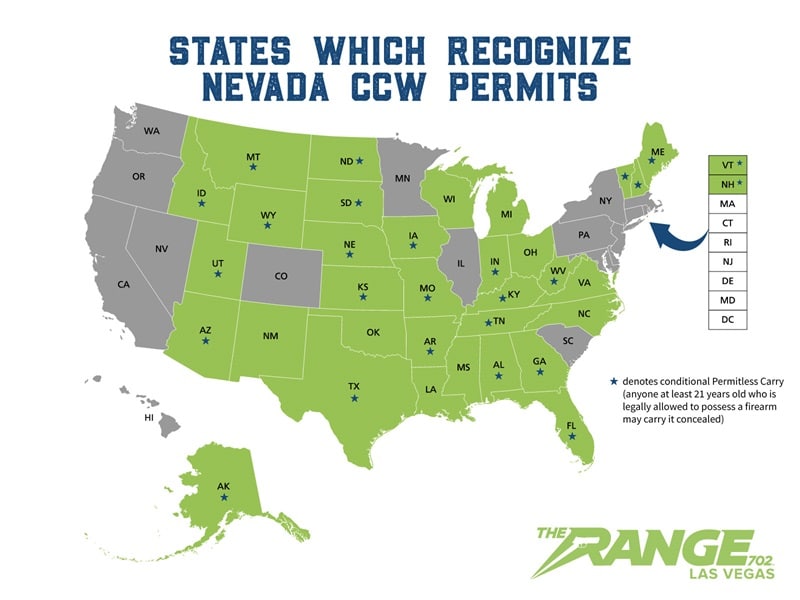 Nevadans with a CCW permit do not need additional permits in states that honor Nevada CCW permits. Nevada CCW permit holders are lawfully permitted to carry a concealed weapon in states that do not require CCW permits, known as permitless carry states.
States honoring Nevada CCW permits
The following states recognize Nevada CCW permits as of November 2023:
Louisiana
Michigan
Mississippi
New Mexico
North Carolina
Ohio
Oklahoma
Virginia
Wisconsin
Permitless carry (constitutional carry) states
Some states have constitutional carry laws in place. In these states, anyone who meets the legal requirements for gun ownership can carry a weapon without a CCW permit. You must check each state's constitutional carry laws and meet the state's legal requirements to carry a gun. Age, identification, and legal restrictions may apply in any state, whether they have CCW permits or constitutional carry laws.
The following states have constitutional carry laws as of November 2023:
Alabama
Alaska
Arizona
Arkansas
Florida
Georgia
Idaho
Indiana
Iowa
Kansas
Kentucky
Maine
Missouri
Montana
Nebraska
New Hampshire
North Dakota
South Dakota
Tennessee
Texas
Utah
Vermont
West Virginia
Wyoming
If you're a Nevada resident and you want to know how to get your Nevada CCW or renew your Nevada CCW, book a class at The Range 702 today! Weekday and weekend classes are available, and our instructors are top-notch. All classes include classroom instruction and live fire, and are certified by the Nevada Sheriffs and Chiefs Association.
Sources:
Nevada Department of Public Safety Records, Communication, and Compliance Division. (2023).
Nevada Revised Statutes (NRS) Dangerous Weapons and Firearms: NRS 202.257. (2023).
Nevada Revised Statutes (NRS) Dangerous Weapons and Firearms: NRS 202.3653. (2023).