10 Best Concealed Carry Weapons for Women
When it comes to concealed carry weapons (CCW), safety tends to be the most common reason for making such a purchase. Although men are more likely to be physically assaulted in the U.S., women are substantially more likely to be injured during an assault and are much more likely to be stalked. Plus, over half of women experience some form of sexual violence in their lifetime. It's no surprise that many women are curious about guns specific to women's CCW handgun needs.
Generally speaking, women are going to have different preferences and requirements when it comes to a CCW compared to men due to differing size, strength, and lifestyle. For example, in the U.S., the average man is 5.5" taller, 29 pounds heavier, and has a nearly 2" thicker waist than the average woman.
Not only this, but women's clothing styles tend to be more form-fitting than men's, making concealed carrying a bit more complicated. Often, women prefer smaller and lighter guns compared to men. Check out the top 10 best concealed carry weapons for women. 
Check out our Las Vegas shooting range experiences to shoot CCW guns at The Range 702. Book your experience today.  
What are the best concealed carry weapons for women?
The best CCW pistols for women include several different models, in no particular order, as follows:
1. Sig Sauer P365
Pros:
Small, compact design

Double-stack

Extremely customizable

Available in 9mm or .380
Cons:
As with most micro-compact pistols, people with larger hands may find it uncomfortable to shoot due to the short grip
2. Smith & Wesson M&P Shield Plus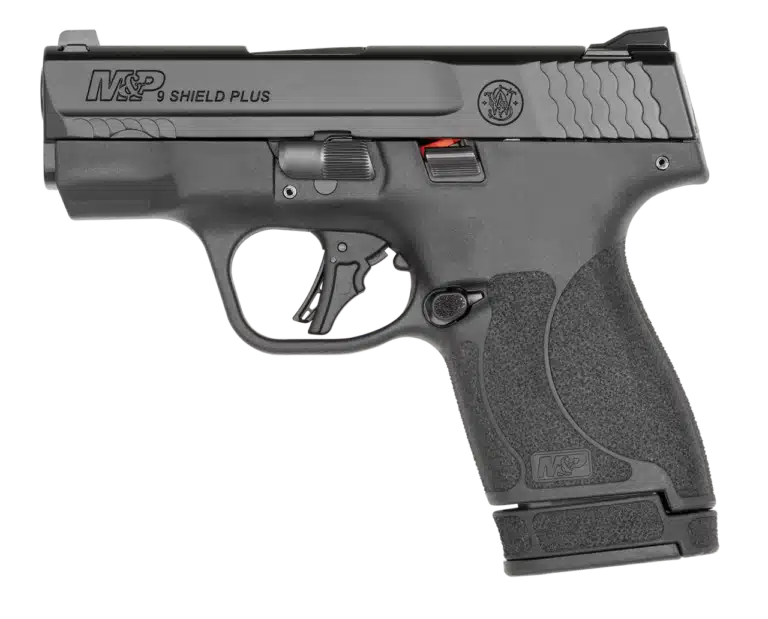 Pros:
Excellent trigger
Manual safety models available
Comfortable grip texture
Very ergonomic
Cons:
Extended magazine (13 rounds – pictured) can pinch fingers

No rail to mount accessories like lights or lasers
3. Glock 43X
Pros:
Extremely reliable
Lots of aftermarket customization / accessory support
Inexpensive
Cons:
Slightly lower magazine capacity than most other options on this list (10)
No accessory rail for lights / lasers
4. Glock 19
Pros:
Extremely reliable
Higher base magazine capacity than most other carry pistols (15 rounds)
Less felt recoil due to larger size
The most popular pistol in America – lots of customization & accessories available
Cons:
Heavier, especially when loaded, than most other pistols on this list

More difficult to conceal than micro-compact-sized pistols
5. Smith & Wesson Shield EZ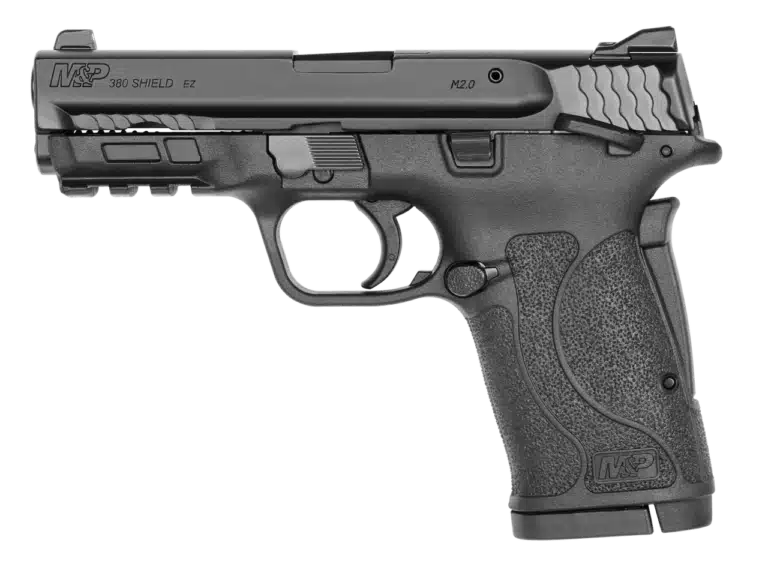 Pros:
Designed specifically to be "EZ" to handle & shoot
Lighter springs to rack the slide, well-designed trigger
Available in multiple calibers
More vertical grip angle
Inexpensive
Cons:
Small magazine capacity (8 rounds)
6. CZ P10C
Pros:
Excellent ergonomics
Very inexpensive
Lower slide mass helps with muzzle rise / recoil
Cons:
Heavier than the similarly sized Glock 19
Less concealable than micro-compact pistols
7. Ruger LCRx
Pros:
Extremely reliable (revolver)
External hammer designed for concealed carry – allows single-action or double-action
Available in 6 different calibers
Very lightweight
Cons:
Limited capacity (6-8 rounds depending on caliber)

Slower reload time
Expensive compared to other pistols on this list
8. Smith & Wesson CSX
Pros:
Single-action only, the hammer must be cocked to fire (for those concerned about negligent discharges)
Very comfortable grip angle, beavertail, and texture
Excellent concealability
Cons:
Single-action only, the hammer must be cocked to fire (for those concerned about making the pistol ready immediately)
Heavier than similarly sized pistols (all-aluminum frame instead of polymer)
9. Walther PDP F-Series
Pros:
Designed specifically for small-medium hands: straighter grip angle, slightly thinner grip
Excellent trigger
All models are optics-ready
Easy to rack slide, including deep serrations for improved grip
3.5″ or 4″ slide lengths available
2023 NRA Women "Handgun Of The Year"
Cons:
Compact size is more difficult to conceal than micro-compacts

Heavier than other pistols on this list
10. Springfield Hellcat Pro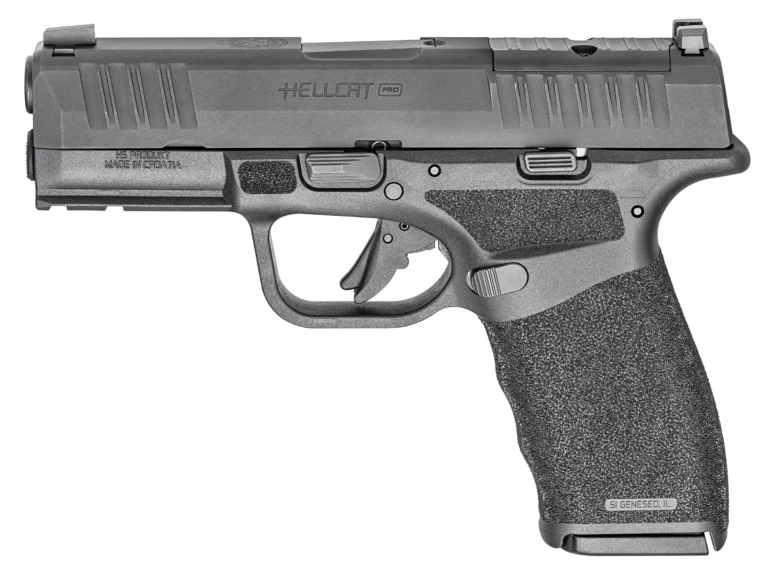 Pros:
Combines best features of many micro-compacts with features of a compact pistol
Slim frame & grip (better for smaller hands), excellent texturing all around
15 round capacity
Cons:
While thinner than compact-sized pistols, they are still tall
Stock trigger is not as good as other pistols on this list
Get your CCW permit at The Range 702, whether you own your CCW gun or are still deciding which one to get. Book your class today. 
Choosing a CCW that's right for you
Choosing a CCW pistol is kind of like choosing warm winter socks — what it looks like matters significantly less than it being comfortable when you're in a tough situation. Much like wanting warm feet in the winter, you should be comfortable with your CCW, especially when it comes to shooting and carrying.
Multiple CCWs may be comfortable for you, so be prepared to consider other factors:
Concealability

Cost

Ammunition type & c

apacity

Ergonomics

Accessory options
Take your time
When choosing between the options for women's CCW handguns, it can be beneficial to go to your local shooting range to try out different models to narrow down your decision. It's important that you're comfortable and that you don't rush the decision. Remember that your personal preferences matter, so don't let anyone talk you into a gun you don't like or want.
Consider more than one
As you narrow your choices down, keep visiting the shooting range and trying out the guns you like to help you make your decision. In fact, many people who carry have multiple pistols. In warm weather, a more concealable pistol for lighter clothing and a larger one for carrying in the fall and winter, when bulkier clothing makes concealment easier.
Take a class
The Range 702 in Las Vegas (hi, that's us) offers 1:1 firearm training for beginners and intermediate skill-level firearm owners. If you're new to firearms or don't get very much range time (once or twice a year), we recommend taking a class with us once you've settled on the pistol (or pistols) you want to carry. We can even prep you for the CCW permitting process in Nevada! Open to NV residents only (with ID).
Concealed carry permit classes in Las Vegas
If you want to carry a concealed handgun with you for self-defense in Nevada, you'll need a Concealed Firearms Permit issued by your local County Sheriff. And in order to qualify for that permit, you'll need to take a concealed carry permit class. When you take concealed carry classes at The Range 702, we provide everything you need to take to your local county sheriff to apply for your permit. NV Residents only!
Book your concealed carry class or Las Vegas shooting range experience today! 
Sources:
Body Measurements. (2021).
Fast Facts: Preventing Sexual Violence. (2022).
Tjaden, P., et al. (2000). Full Report of the Prevalence, Incidence, and Consequences of Violence Against Women.