Shoot a Thompson
Machine Gun in
Las Vegas
QUICK DETAILS
Gun Type: Machine Gun
Requirements
Sober; Alcohol or drugs are strictly prohibited. Anyone believed to be under the influence of alcohol or drugs will be refused the use of the range.
Not Pregnant.
Mentally Stable.
Minors must be at least 10 years of age to shoot, minors under the age of 18, must be accompanied by a parent or legal guardian at all times.
Must have valid government approved ID with you on the day of shooting.
We require a deposit or full payment to confirm your reservation.
All reservations are non-refundable but are fully transferable for up to six months from the reservation date.
*All guns subject to availability.
Shoot A Thompson Machine Gun in Las Vegas
When you want to travel back in time and experience the Roaring Twenties as a gangster or police officer, you can do so by shooting Thompson submachine guns in Vegas at the rifle shooting range located at The Range 702. You can even dress the part by dressing up in attire from this era before visiting our shooting range.
Explore the wide range of shooting experiences available at our shooting range. Book your adventure today.
What is the Thompson gun?
The Thompson Machine Gun is a .45 ACP caliber submachine gun with a 100-year history. Dating back to 1918, the Tommy gun gained notoriety during the prohibition era and was a favorite of both heroes and villains alike thanks to its high rate of fire and famous precision shot.
It was designed and patented by John T. Thompson while he was in the United States Army during World War I. However, he would not complete the gun until after the war was over. Even still, his newly designed gun quickly became quite popular with the U.S. armed forces, law enforcement, and U.S. mobsters, like Al Capone, Bugsy Siegel, and John Dillinger.

Experience the excitement of shooting machine guns in Vegas at The Range 702.


What does the Thompson machine gun shoot?
Shooting a fully automatic Thompson Machine Gun is an experience like no other, with some variants reaching a rate of fire of up to 1500 rounds per minute at a distance of 164 yards. This incredible gun puts a lot of large bullets down range very quickly. The Thompson has a very distinctive look, with its raked grip and forend grips, as well as the wooden furniture, and possibly its most distinctive feature – the drum magazine.
What is the Thompson gun known for?
The Tommy gun is known for its use as a defensive weapon and its ability to fire off a high capacity of rounds. With such a high rate of fire, it was necessary to have a high capacity, and so 50 and 100 round drum magazines were produced. The incredible history of this gun is part of what makes it so much fun to shoot.
The Thompson submachine gun became very popular when it was obtained by prohibition and Great Depression-era gangsters and the police officers that attempted to subdue and capture them. One of the more well-known events during this era where Tommy guns were used was the St. Valentine's Day Massacre in Chicago.
In Hollywood, the guns were featured in numerous gangster-type movies of the time. They were often depicted as being hidden and carried around in violin cases. In real life, violin cases provided an easy way to conceal and carry a Thompson in public. Yet, violin cases were not the only things used to conceal the guns from plain sight.
Since Tommy guns were easily obtainable during this era, the U.S. Congress passed the National Firearms Act in 1934, which required owners of any type of automatic weapon to register them with the ATF (Bureau of Alcohol, Tobacco, Firearms, and Explosives).
Where Can I See Tommy Guns in Vegas?
There are only two places where you can see the Thompson submachine guns in Vegas:
The Mob Museum and The Range 702. While The Mob Museum is a great place to visit to learn all about the history of the mob and check out some cool artifacts, the only place you can fire a Tommy gun is at our shooting ranges Las Vegas.
Your shooting experience begins with a comprehensive safety brief from our highly qualified and friendly staff. Upon your arrival at The Range 702 firing range, our team will set you up with everything you need for target practice, including your eye and ear protection, rounds of ammo, and of course, a Thompson Machine gun from our submachine gun vault.
Want to feel the power and adrenaline rush you experience when shooting a Thompson submachine gun? Book your Vegas shooting experience today.
Related Experience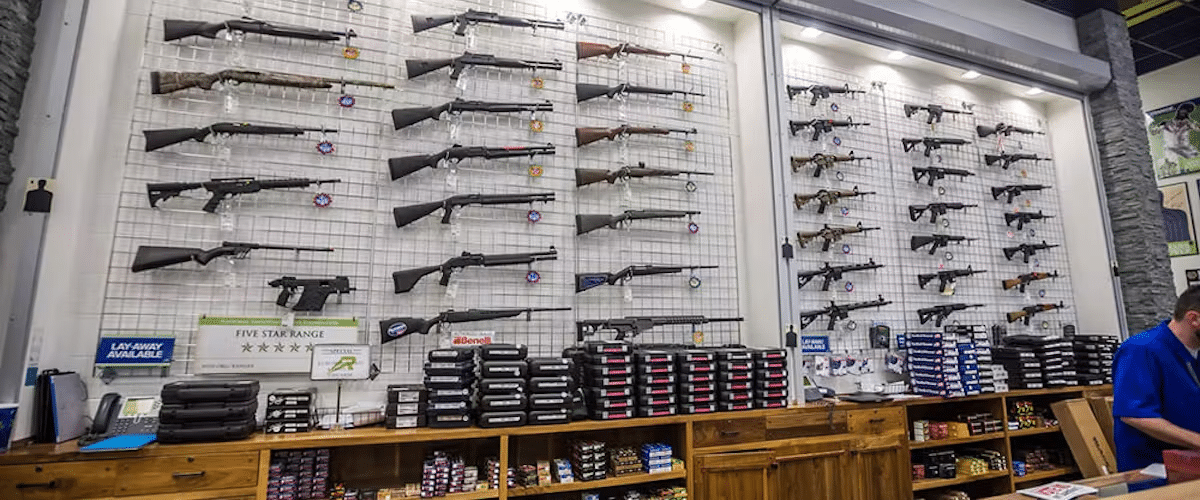 The Triple Threat package is great for those who want to shoot from a variety of guns at a great price point.
This monster firearm is one you'll never forget and will go to the top of your list of interesting guns that you've had the honor of shooting.
The MG42 is a WWII era weapon that fired 1,200-1,500 rounds per minute making it a powerhouse on the battlefield.