Ammo Shortage of 2020: How Long Will It Last?
How long will the ammo shortage of 2020 last? Unfortunately, ammunition manufacturers, wholesalers, and retailers expect supplies to be scarce until summer 2021 and possibly later. If you need ammo, especially common concealed carry and home-defense handgun calibers, you may be in for a long wait.
In August 2020, Olin, the parent company of Winchester Ammunition, expected the shortage to continue through the end of the year. Vista Outdoors, the parent company of Federal, Speer, and Remington ammo brands, reports over a year's worth of backlogged ammunition orders, exceeding $1 billion. Brownell's, a leading firearms retailer, is fighting to restock. However, demand makes it hard to keep up because inventory sells out as soon as it is available.
Reasons for Ammo Shortage
Manufacturers are working at full or nearly full capacity, but they are still recovering from several 2020 setbacks: a pandemic, social unrest, and politics. One key to predicting how long the shortage will last could be understanding its causes.
Just like the gun and ammo shortage of 2016, the 2020 buying surge is politically charged. The deficit was already severe long before the political conventions, but the presidential election was a significant factor.
Gun owners, panic-buying over fears of an anti-gun presidency, bought guns and ammo in record amounts. This is nothing new: Demand for guns and ammo always spikes in election years. Usually, the demand falls after the election, and supplies return to normal or even surplus levels. But this shortage is different from the 2016 run on guns and ammo. The ongoing Coronavirus pandemic may cause this situation to last longer..
Civil Unrest and New Gun Owners
The ammo shortage began early in 2020, with the onset of the COVID-19 pandemic and the lockdowns that followed the outbreak. Then, riots followed after highly publicized brutality and killings involving both police and protestors took place. Gun owners prepared for further unrest by stocking up on guns and ammunition. Also, 6.2 million Americans bought their first guns, contributing to record sales of guns and ammo. That's more than double the number of new shooters who fueled the 2016 surge.
More gun owners mean more shooters and more need for firearms, ammo, and other supplies. Additionally, shelter-in-place orders due to the pandemic left more people with time for recreation, including target shooting. As you'd expect, more shooting requires more ammunition.
COVID-19 and Production Restrictions
Meanwhile, COVID-19 restrictions led to mines and factories closing or reducing output even as demand increased. Closed mines decreased raw materials, which reduced components. Closed factories can't produce ammo even with parts on hand. Open factories cannot get nonexistent parts.
Even with mines and factories now open and running at full capacity and most components available, primers are still in short supply. The lack of primers has done the most significant damage to reloaders and small manufacturers. They may have other parts (brass, projectiles, powder), but they need primers to produce cartridges. Their facilities are idle while demand continues to increase.
Meanwhile, increased production among large makers has not led to expanded inventory. While production is at record highs, stocks are at record lows because of the immense demand in a growing market. Because of this unprecedented demand, supply falls even while production skyrockets. COVID-19 restrictions set manufacturers back enough to where they will be playing catch up for a long time.
Retailers and Distributors
Firearm and gun supply retailers and distributors continue to struggle to stock ammo. But there is good news: Vista Outdoors now owns the former Remington Outdoors ammunition factory in Lonoke, AR, and is increasing its production to full capacity. Vista will recall 300 employees furloughed by Remington to join about 400 who are still there.
Besides increased production, there are three keys to recovery: Politics, new shooters, and fears of lawlessness. The political dust will have to ultimately settle, new shooters must eventually stock up, and fears of unrest will hopefully fade. When this happens, guns and ammo should be available at normal levels.
Ammo Availability on the Horizon
For the near future, demand for ammo will remain higher than production, while the supply of ammunition will remain low. At this point, the predictions of a summer recovery may be optimistic. It could be fall or winter of 2021 before we have relief from the 2020 ammo shortage.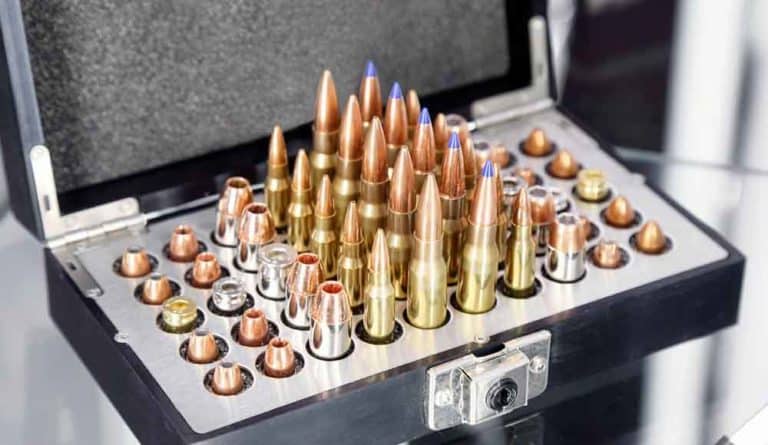 Avid shooters should remain vigilant and be on the lookout for available ammo. Stay on top of online sellers and check back often with local shooting ranges and retailers for the latest updates. They may have some insight into when the ammo and firearm shortage will end. However, one thing's for sure – where there's demand, supply historically will follow.
Shooting at The Range 702 in Las Vegas Is Open
Currently, The Range 702 in Las Vegas is stocked with ammo and open for an exhilarating indoor shooting experience. Even if you don't have your own gun, we have an extensive gun vault with a variety of firearms to choose from.
Book a tailored gun experience, reserve a lane, or work with one of our instructors to improve your confidence, handling, and accuracy. The Range 702 has everything you need to keep your shooting skills sharp, even through this ammo shortage. Contact our team to learn more!