Shoot a Glock Roni
in Las Vegas
QUICK DETAILS
Gun Type: Handgun
Requirements
Sober; Alcohol or drugs are strictly prohibited. Anyone believed to be under the influence of alcohol or drugs will be refused the use of the range.
Not Pregnant.
Mentally Stable.
Minors must be at least 10 years of age to shoot, minors under the age of 18, must be accompanied by a parent or legal guardian at all times.
Must have valid government approved ID with you on the day of shooting.
We require a deposit or full payment to confirm your reservation.
All reservations are non-refundable but are fully transferable for up to six months from the reservation date.
We gave the Glock 19 an upgrade! After turning this pistol fully automatic, we then placed it inside a Roni conversion kit, allowing you to have a better grip and accuracy when shooting. Experience a new way to shoot a Glock or try out any other pistols in our gun vault at The Range 702.
Shoot a Glock Roni gun in Las Vegas by booking your shooting experience today.
What is a Glock 19?
A Glock 19 is a compact 9mm pistol, with both a shorter grip and barrel/slide than the popular full-sized Glock 17. In 2021, the Glock 19 was the number one selling handgun. It's commercial success is due in large part to it's excellent combination of size, capacity (15 round standard magazine), reliability, accuracy and of course price. The Glock 19 is the pistol of choice for many who choose to carry a concealed firearm.
What is a Glock Roni?
A Glock Roni is a kit produced by CAA that adds a polymer shroud over a Glock pistol, adding a folding brace, a rail for optics and sights, and side rails for other accessories. It also looks really cool. The shroud converts the gun into a longer handgun with a folding arm support, or it features a folding stock so that you can shoot it more like a rifle.
Adding a brace to a pistol or rifle now requires registration with the ATF, so don't do this at home without the proper paperwork.
What is the point of a Micro Roni?
The point of a Micro Roni is to help you shoot better by making it easier to aim and hold a Glock. More space for optics, accessories and area to grip the pistol means you'll be better able to aim, control recoil and muzzle flip, or engage a target with lights / lasers. It's also easier to hold a Glock with a Roni installed and an extended magazine. Especially with a fully automatic Glock like the one offered at The Range 702, the extra space for your hands makes full-auto fire easier to control. But mostly it's to look cool.
How to shoot a Micro Roni?
To shoot a Micro Roni Glock pistol, follow these steps:
Open the arm brace and lock it into place.
Place the arm brace over your trigger hand forearm.
Bring the gun up and line up the sights on your target.
Carefully squeeze the trigger to fire off one or more rounds of ammo.
Shoot a Glock Micro Roni in Las Vegas

Shoot a Glock Micro Roni or regular Glock Las Vegas style at The Range 702. Our highly trained gun experts and instructors welcome you as soon as you arrive at our indoor firing range.
We help prepare you with a safety briefing to ensure you get the most out of your shooting experience. We also will take care of everything you need, including a Glock Micro Roni, rounds of ammo, and safety equipment.
Shoot a Glock Roni gun in Las Vegas at The Range 702 by booking your shooting experience today.
Related Experience
SALE – $100 OFF
The All In is a VIP shooting experience featuring the most powerful 13 firearms The Range 702 has to offer.
Want to share your Ultimate Shooting Experience with a friend?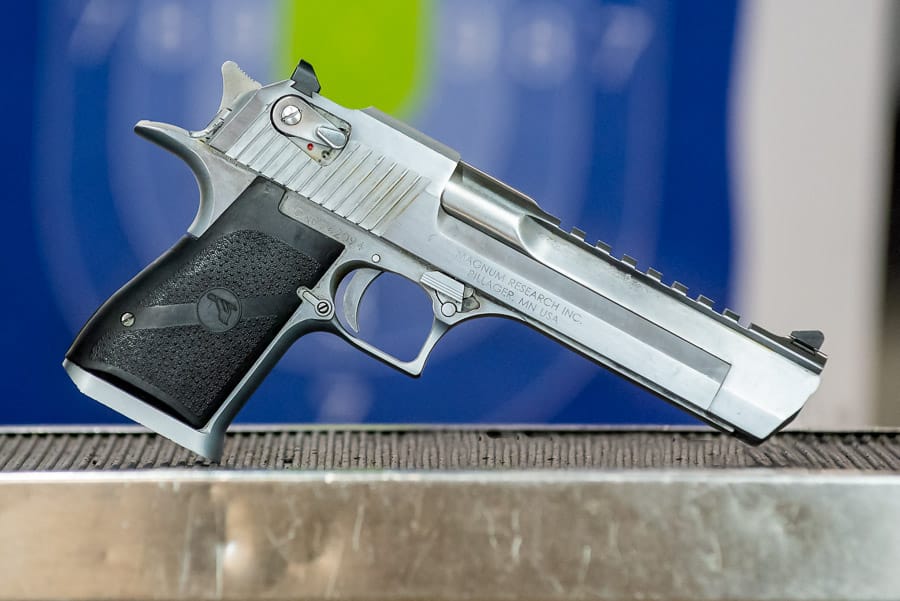 Featuring one of the largest calibers of any handgun, the Desert Eagle .50AE is a force to be reckoned with. Made famous by both heroes and bad guys on the big screen, the Desert Eagle has created its own legend! Book the Desert Eagle pistol in the following shooting experiences below at The Range 702 in Las Vegas!